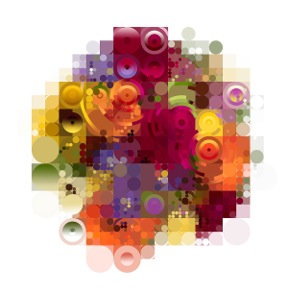 Cartographic Colour
The Gallery at Foyles
107 Charing Cross Rd, London WC2H 0DT
17th August – 5th October
Giles Revell's forensic approach reveals the beauty and the complexity of nature. In Cartographic Colour he employs his method to examine the role that colour plays in our visual perception of the world around us. His subject is flowers, but flora here are used as a proxy for the real goal – a deeper understanding of the way we see colour revealed through the meticulous examination of its subject matter.
Cartographic Colour is divided in two.  A series of 'palettes' reinterpret the colours of well-known flowers, abstracted to eliminate the distraction of form. Petals and stems are reduced to accurate graphic examinations of their constituent hues.
"The plants were stripped of identity through the process of mapping, with the aim of creating a series of images where engagement is purely through scale, shape and position of colour," Revell explains. "I was hoping to make arresting interpretations without the necessity of structure and form."
The second part of the project is concerned with the range of colour of flowers collected from the Wisley RHS garden one summer's day in June.
"The intention was to gather and summarise the diversity of palette of all the main blooms on  that day and present them as groupings," Revell reveals. Further monthly visits have been made to look at the changing palette over the summer as different species come and go, all of which are presented with GPS coordinates to enable the plants to be revisited in the future.